Elephant News
Our newsletter is loved because we pack it with case law, quizzes & tips - but not too much.
To get a copy each month click here.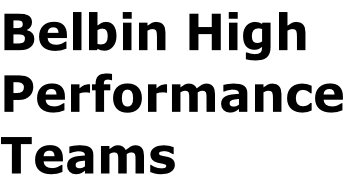 Belbin Team Roles is all about understanding what contribution each person makes to a team and how when you work to your strengths and cover all the elements, it makes the team (whether a work or project team) high performance.
In the 1970's Dr Meredith Belbin and his research team at Henley Management College wanted to find out what made high performance teams. They studied management teams and looked at personality, intelligence and behaviour and what they found was that the success of the team was largely about the behaviour. It was found that when you had team members that covered all 9 roles (not necessarily 9 people as you can play more than one role) the team was more successful. A team that was balanced was the key.
The High Performance Teams programme consists of:
Self-Assessment:

Each person completes a short assessment about the types of words which describe how they see the roles they prefer to play in the team. The roles aren't explained, the assessment focuses on the behaviours that sit behind each role in the team.

Observer Assessment:

Each person needs to ask 4 – 6 other people from the team to complete an observer assessment. There are no personal comments in this, it's just about what words others would use to describe how they see the role the person plays in their team. It's a very safe way to get some feedback about how others see you without it being a 360 process.
Once the reports are completed, we run a 3 hour workshop for your HR team. The workshop content contains:
an

overview

of the 9 Belbin Team Roles

a team building exercise to bring this to life

taking you each through your individual Belbin report to see what your strengths are

going through your

individual

report so you can see your team role preferences as well as lots of interesting insights!
talking about what your

HR team profile

looks like – what elements are your strong points and what you can do to fill the gaps.
You'll then be able to action plan what steps you can take to take the team to high performance!

Book your workshop today!
Quick Find:
HR Training
HR Consulting/Contracting
SME Business Support
Postal Address:
PO Box 5723,
Wellesley Street,
Auckland 1141