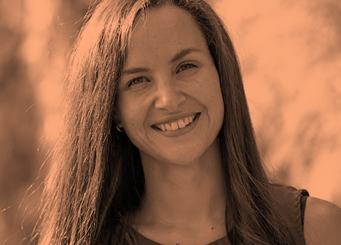 Super Early Bird tickets are available until 31 October 2019.
Early Bird available until 30 November.
Full price tickets available until 5 working days before the conference or until tickets have sold out.
Out of town ticket (OOF): add an extra $245 for one nights accommodation and breakfast. Purchase 2 OOF tickets for 2 nights accommodation and breakfast, and airport transfers.
Save 10% if you book 2 people .
Save 20% if you book 3 people or more.
Terms and Conditions
The HR Advisors Conference is run by Elephant Group. Elephant Group reserves the right to amend the conference at any time if required. Once we've received your registration and payment, we will send you a confirmation pack .
If you are unable to attend and written notification is received by us 3 weeks in advance, you will receive a refund less a $100 cancellation fee. After that, no refunds will be issued. You can substitute your attendance with someone else up to 3 days before the conference. Photography may be taken during the conference in which you may be included. Please let us know if you do not consent to being in these photos.
Read about previous conferences
Elephant HR qualifications

Elephant News
Our newsletter is loved because we pack it with case law, quizzes & tips - but not too much.
Management Bites
Off the shelf workshops and videos based on the bestselling book. Buy & run yourself, or hire one of our team.
Auckland | London | San Francisco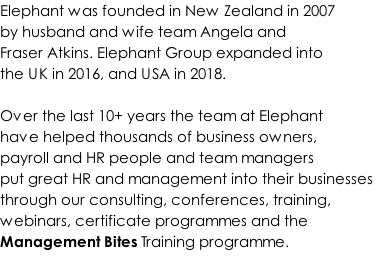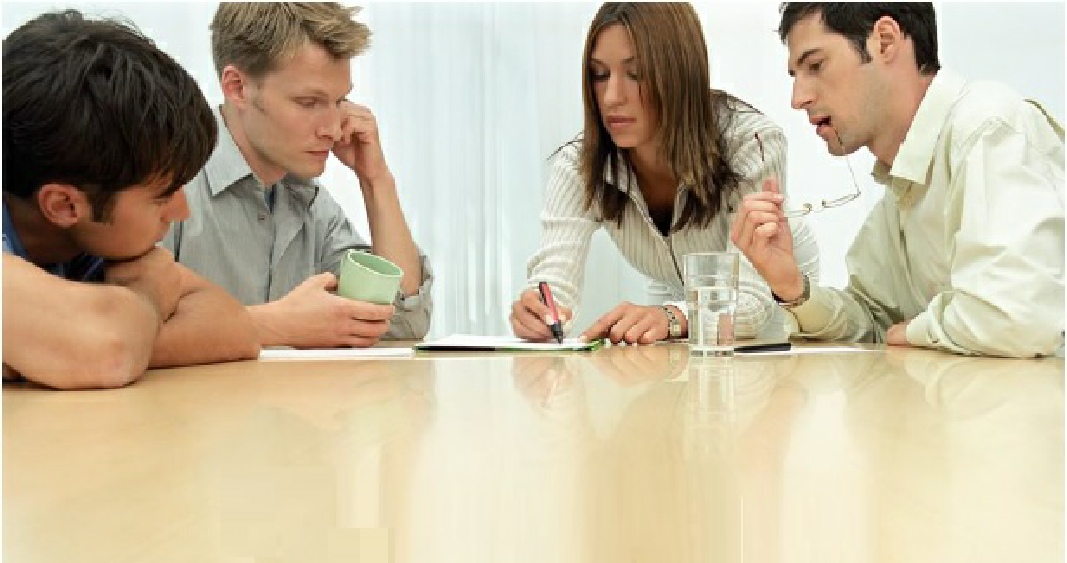 The HR Advisors Conference 2020
Getting your business on board


Do you ever feel like you are fighting a losing battle?
You're providing great HR advice, and HR tools and resources, but you just can't get on top of everything? This year the HR Advisors Conference focuses on how to get your business onboard with considering HR proactively rather than you having to constantly fight fires.
Esther Fou, Team Leader People & Safety, UCOL
Angela Evans, Partner, LangtonHudsonButcher
Brad Norris,
Synergy Health
Matthew Piper, Senior Associate, SimpsonGrierson
Your HR career path and skill development tips and tricks
Esther was one of our stand out presenters at the HR Advisors Conference in Wellington in September 2019. She's back for February to talk about her career path, share practical ideas on how you can develop your career in whichever role you're in and give you lots of brilliant ideas on how to develop your skills including books to read, people to connect with and actions you can take on the job. What did people say from hearing Esther in September? "Esther's session was fantastic - I can't wait to use it and share the knowledge I gained" "My favourite presenter was Esther. Her presentation was very useful and relevant for my role".
Case law cluster: getting down and dirty with real employment law cases
Angela Evans has presented at the HR Advisors for the last few years and always gets fantastic feedback. In this 2 hour session she will go into detail about 3 cases and you'll discuss what the employers did right and what went wrong. Attendees say about Angela: "Angela Evans gave great insights and honesty. Outstanding way to describe the law - made it very clear to understand and interpret. Loved having the chance to ask questions about anything. I came away with a lot of actions to improve our processes." "Angela Evans gave great legal perspectives and I found her presentation refreshing, funny and useful!" "Angela Evan is brilliant - presents at our level."
"So interesting and useful, could've listened for hours"
Engaging the Unengaged: how do you get the managers that aren't interested on board?
Hot from our OD conference in August, Brad Norris got rave reviews for his session sharing different techniques and actions you can take to get those managers or employees who aren't interested in HR to turn around and get interested. Brad will share learnings from how they have got uninterested people interested in wellness programmes and how this applies to HR. Attendees from the OD conference said: "Brad Norris is the most engaging presenter I think I've ever witnessed! I loved the personal values and his content". "Brad Norris was by far my standout presenter. His framing of HR as behaviour change and a values-based approach to behaviour change was inspirational."
Holidays Act, Flexible Working and Employment Agreements: Employment Law update
Matthew came and presented on the Privacy Act last year, and this year will be giving us an update on the Holidays Act changes that are coming, flexible working and legal issues with employment agreements. Matthew is a Senior Associate with SimpsonGrierson and attendees said about his session last year: "Mathew did a great job of keeping a pretty sterile subject like the Privacy Act interesting." "Matthew Piper had some great tips around reference checks and spoke in a language we could all understand" "I found Matt Piper's session really informative and relevant for my HR Advisor role. He had exceptional knowledge and was a great facilitator- really engaging".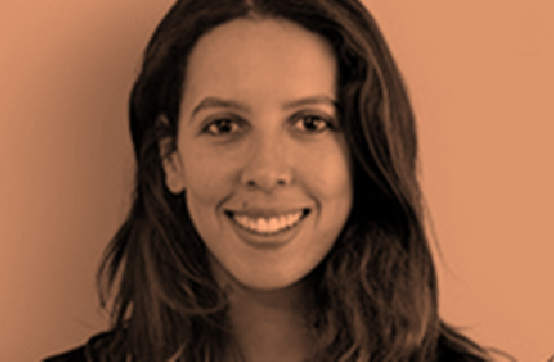 Using Customer Journey Mapping and marketing principles as an HR tool
Jodie also presented at our OD conference but we think these tools work for HR as well as OD Come and hear about what Customer Journey Mapping is, how it can apply to HR process and what marketing concepts you can apply to get your managers involved. What did attendees say about Jodie? "It was very interesting learning about journey mapping - a new concept for me. Jodie spoke well and explained things clearly". "Jodie was upbeat, current, right pitch, great visual aids and interactive." "Jodie - great presenter, very engaging, good content." "Jodie presented new ideas from marketing that can be applied to OD".
Jodie Armstrong-Downes, Track NZ
When and where?
Our Auckland HR Advisors Conference is being held at the Rose Park Hotel in Parnell, Auckland.
There is free parking at the venue.
Dates: Thursday 20 and Friday 21 February 2020.
If you purchase an out of town ticket, then your accommodation will be at the Rose Park or if all our rooms are booked, at a hotel nearby.
Who attends?
We keep our conference size smaller so you have time to meet others, ask questions and get the most learning possible from the two days. Some of the companies who have attended in the past include:
ANZ | Assurity Consulting | Auckland Council | AUT
Baby City | Ballance Agri-Nutrients | BDO Accountants | BNZ| Chorus | City Care | Competenz | Counties Manukau DHB | Douglas Pharmaceuticals | Fairfax Media | Fonterra | Frucor | Hilton Hotel | Intergen | Landcorp | Loyalty NZ | Lotto | Massey University | Methanex | Michael Hill | Ministry for Culture and Heritage |
MInistry of Social Develoment | Mitre10 | Northtec | Napier Port | nib NZ | NZ Defence Force | NZ Red Cross | OSPRI | Primary ITO | Plunket | Radius Medical| Recreational Services | Repco | Rocket Lab | Sanford | Scion | Simpson Grierson| TNT Express | TrustPower | Wellington Free Ambulance | Xero | Z Energy
The HR Advisors Conference 2020
TICKETS
Register to attend
Places are limited - so grab your ticket to be there and get your business on board!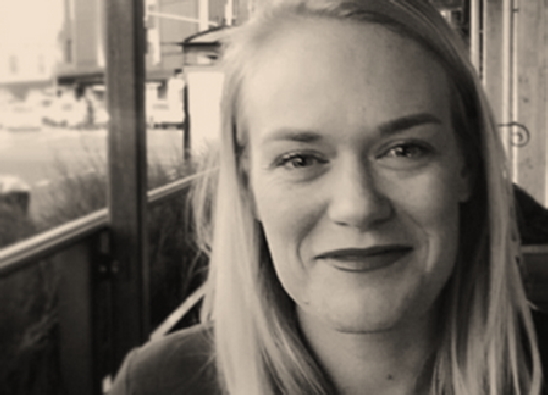 Building your personal brand and employment brand
Kirsti presented at our HR Game Changer Conference a few years ago and has since been Head of Talent at Vend, launched her own recruitment software (Populate) and is now Director of People Experience at Auror. Kirsti will share how you can build your personal brand and employment brand with stories from the world of tech. She says: "I believe what is truly transformational in a company is a clear strategy, a strong set of values or guiding principles (where there are countless stories of them being more than just words on the wall) to align with and work to, huge amounts of trust in one another, honest communication and a strong aptitude for adapting to and dealing with change. It sounds so simple, in a paragraph but it's surprisingly rare and the companies who get all of these right are the ones that have strong, natural company cultures and are built for long term high performance".
HR Innovation Laboratories: Can you come up with the right solution for your case?
Nikki has been with Elephant since 2012 and has brilliantly MCed our last few conferences. Nikki will be running our HR Innovation Laboratories where you get the chance to analyse a case study and come up with different solutions. You'll then hear what the company really did and take ideas away you can use in real life. Choose between case studies on recruitment, change, induction or HR policies.
What do attendees say about Nikki? "Nikki was amazing, she really set the vibe for the conference, I really enjoyed her energy" "Nikki was great throughout. I can't wait to use her tips and share the knowledge I gained." "Nikki is soooo good"
Nikki Peck, HR Influencer and Conference MC
Kirsti Grant, Director of People Experience, Auror
Register to attend
Register to attend
Register to attend
Using LinkedIn to network, develop skills, build your brand and find candidates…..
Kate Nankivell runs Force of Nature. Kate is a LinkedIn trainer and consultant, social selling specialist and a connector. With her strategic understanding of business development and social selling, her clients see immediate value – using the power of LinkedIn to get RESULTS for their businesses or careers. What do attendees say about Kate? "Kate has done a tremendous job up-skilling me in both the basics and the finer points of LinkedIn. The range of practical advice that Kate has shared has helped me move from confusion to clarity, and I am truly grateful for that."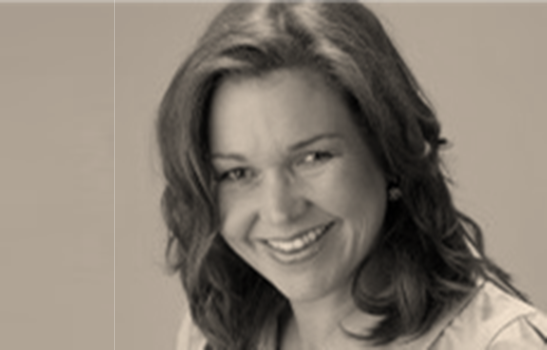 Kate Nankivell,
LinkedIn trainer, Force of Nature

Day 2: Friday
9am – 10.45am = You will hear from 3 lawyers each talking about a different topic. 1. Holidays Act issues 2. Flexible working/keeping in touch hours/availability hours in zero hours 3. Employment Agreements – what happens when someone hasn't signed or has amended the agreement, issues with casuals and fixed terms.
MORNING TEA
11.15am – 12.45pm: Case Law Cluster. Angela Evans will be taking you deep into several cases and discussing the HR and payroll issues about each. Can you work out what really went right and wrong?
12.45pm – LUNCH
1.30pm – 2.45pm: Customer Journey Mapping with Jodie Armstrong-Downes.
2.45pm - 3.30pm: How to be a great employee with Tash Pieterse.
3.30pm - 3.45pm: Action Plan discussion and conference close.
Tash Pieterse,
HR Consultant & Mindset Coach
How to be a great employee (and make other great employees!)
Tash has navigated a 10 year HR career across various industries and companies before heading out as an independent consultant and qualifying as a Life & Mindset Coach. Tash will share her learnings from her journey of navigating corporate life, dealing with deep-rooted stress issues, finding purpose in her work, discovering her truth and sharing that with the world and talk about how you can be a great employee, even with the pressures of working in HR and how to develop others to be too!
Tash presented way back at our first HR Advisors Conference in 2014 to rave reviews. We are so pleased to have her back to discuss such and interesting and important subject. We know you'll get some great tips to take away.
Day 1: Thursday
9.30am: Conference start, introductions and think tank on your HR challenges and what you'd like to get from the conference.
10.15am – 11.15am: Your HR Career Path with Ester Fou.
11.15am – 12pm: Getting Linked In with Kate Nankivell.
LUNCH
1 – 2.30pm: HR Innovation Labs: can you come up with an out of the box solution? With Nikki Peck.
AFTERNOON TEA
3pm – 4pm: Engaging those managers who just aren't interested in HR. With Brad Norris, CEO of Synergy Health - one of our most popular presenters ever.
4 - 4.45pm: Building your personal and employer brand with Kirsti Grant.
4.45pm - 5pm: World Cafe session to discuss Brad and Kirsti's session and set your action plan. Then conference finishes for Day 1.