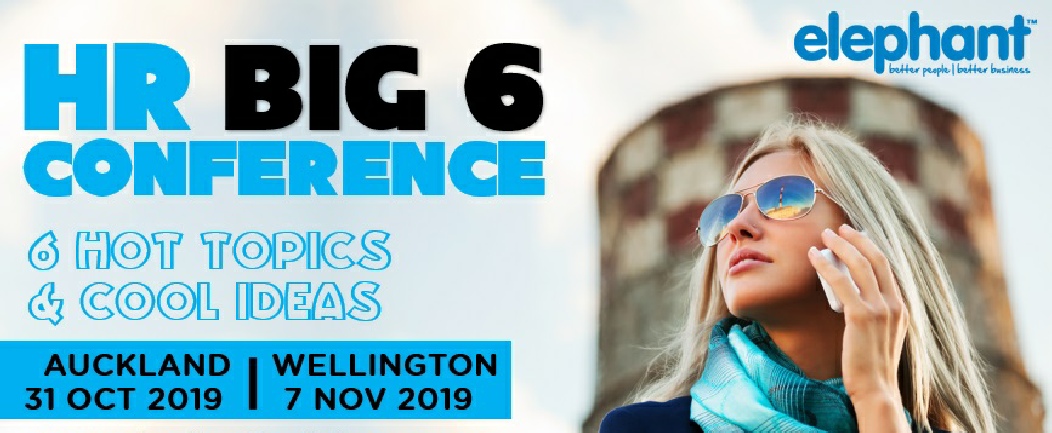 Do you to get up to date on the latest HR trends?
And get some practical ideas on implementing them?
We know that in HR it can be overwhelming trying to keep up with everything that is happening in the world of work. You also often don't have time to have 2 or more days out of the office at a conference. So we've put together the HR Big 6 conference. The 6 hottest topics happening in HR right now, and practical ideas on what to put into place.
If you want to make sure you're prepared for the future - the HR Big 6 is the event to attend.
The 6 topics we will cover
Super Early Bird tickets available until 26 August. Book now and save!
Register Today
We've all been focusing on the gig economy, meanwhile triangular relationships are about to change the status of contractors and temps for good. In the US and UK after various court battles, Uber and Hermes have had to offer contractors employment. Come and hear what will happen in NZ and what you'll need to put in place with your business.
The end of Contractors as we know them
A tale of four generations and one workplace
Flexible working and four day weeks - many managers still focus on their teams being at work, 40 hours a week, where the manager can see them. But this is no longer the most effective way to get work done. Come and hear about how flexible working and the 4 day week can create amazing results for your business.
Should your employees be working less?
When the kiwi dream job goes wrong
Why are so many NZ businesses getting into real trouble with Immigration NZ or MBIE over migrant employees? You might think it's only seasonal or small businesses, but large employers are getting these things wrong as well. Come and find out what is going wrong and how to make sure you are compliant.
In the workplace we currently have Baby Boomers who are starting to retire, or not retire at all and continue working. Gen X and Gen Y (millenials) in the middle and now Gen Z coming into the mix too. Each have different motivators and HR issues to consider. In this session come and find out how the 4 are mixing and what strategies you should be using with each.
Your HR intranet just isn't good enough
Many HR teams still send out one email as their entire communications plan, or put something hidden somewhere on the intranet. HR teams that engage with their business are using new ways to communicate and collaborate that will be essential in the future. This session will give you new ideas on how to get your message out so everyone hears.
We are currently locking in a number of excellent presenters to speak on the above topics. Details will be posted shortly.
In the biggest shift since many HR teams moving to HR Business Partnering, there are now many HR teams moving to Employee Experience (EX) or People Experience (PX). How does this differ from the old concept of EVP? How does it differ from HR? What does it involve? And if you want to deliver EX or PX what should you be doing?

HR Big 6 Conference Details
Terms and Conditions
The HR Big Six Conference is brought to you by Elephant Group. Elephant Group reserves the right to amend the conference details and will post updates here. Once we've received your registration and payment, we will send you a confirmation pack. No invoices can be issued for this conference.

Ticket details
Super Early Birds = $425 available to 26 August.
Early Birds = $495 available to 27 September.
Full price tickets are $595.
10% saving if you are an Elephant VIP or you book 2 attendees. 20% saving for Not for Profits/Public Sector or if you book 3 or more attendees.
If you are unable to attend and written notification is received by us 3 weeks in advance, you will receive a refund less a $100 cancellation fee. After that, no refunds will be issued. You can substitute your attendance with someone else up to 3 days before the conference. Photography may be taken during the conference in which you may be included. Please let us know if you do not consent to being in these photos.
Register Today
Auckland | London | San Francisco
Date and time
Auckland: Thursday 31 October, Rose Park Hotel, Parnell
Wellington: Thursday 7 November, Terrace Conference Centre.
The registration desk will open at 9am, with the conference beginning at 9.30am and finishing at 5pm.
Attendees recieve morning tea, lunch, afternoon tea, a coference notebook and the slide pack.