Operational HR
Our Refresh HR webinars are around 45 minutes and cover all the key areas of operational HR. They include quizzes to test your knowledge as well as practical examples and case law of how each area works in real life.
How does it work? Click and purchase the topics you want and we will send you through a link to the recording of the webinar and a copy of the slides. All of this for just £18 per webinar.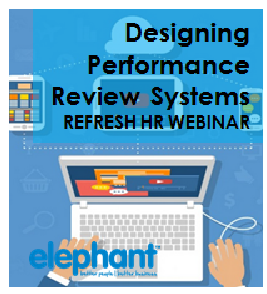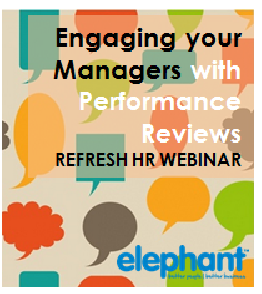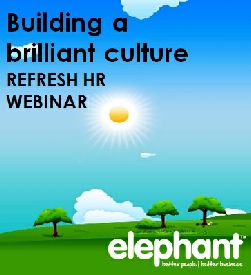 Super Recruitment covers:
What factors to consider when establishing a

recruitment strategy

In house vs outsourcing & negotiating PSA's

What

steps

should you include to make your recruitment process effective: technology, testing, interview questions and more.

Using social media and HR innovation to build and find talent

Coaching managers through recruitment issues
Writing Perfect Policies covers:
Making your policies engaging & adapt to different communication styles

When you should and shouldn't introduce a new policy (remembering the 1:100 rule)

Building your managers engagement and ownership of the policies so they're not just an HR thing

Use your policies effectively to address issues and more importantly build the culture that you want!
Clever Communication covers:
The steps to thinking through how you communicate an HR initiative or project

An easy to use model to understand the 4 main communication styles - both for yourself and your managers!

Different ways to adapt your written and verbal communications to the different styles

How to write effective information to appeal to all your team
Designing a Performance Review System covers:
4 key performance review models and strategies to consider for your business

Dealing with the complexities of weightings, ratings, scores, linking to remuneration and structuring your goals

Real case studies and examples of different review systems

Game changing ideas for transforming your review process
Designing Competency Models covers:
Different approaches to using competencies in your business with real cases studies

How to use a repetory grid and critical incident process to build new competencies

How to develop descriptors and rating scales for competencies

Different ways to use competencies

How to coach and advise managers on competencies
Development Plans covers:
Different Development Planning models that you can use in your business

Templates and layouts for development planning

How to get employees to take responsbility and owndership of their development

Dealing with management and HR challenges around your development strategy and process including budgets, logistics and resources
Engaging your Managers covers:
Different methods to use to present and communication your performance review system accross different groups and personalities

Innovative ideas to grab attention and get managers and employees excited about reviews

Metrics and analytics that show the value of reviews and show the what's in it for me with managers

Using FOMO to get people on board through social media and other channels
Talent Management covers:
What

factors

you should consider when looking at Talent Management
Case study 1:

A smaller company with a fairly informal approach

Case study 2:

Large corporate with thousands of employees & large talent programme

Case study 3:

Medium sized business with different business units
Building a Brilliant Culture covers:
What is culture anyway? Different ways to define it.

Tools you can use to measure culture (including ones that don't cost much!)

Change models you need to decide on up front to build a culture

Some real case studies of culture change and what companies did from all levels to achieve the outcome planned.

Elephant Group International Ltd
Registered address: International House, 24 Holborn Viaduct, London EC1A 2BN.
Email: To email us click here.
Purchase a webinar
Strategic HR
Our Advanced HR webinars cover strategic areas of HR and are for those in HR Consultant or Business Partner roles. They include practical examples of how to plan and implement in the workplace.
How does it work? Click and purchase the topics you want and we will send you through a link to the recording of the webinar and a copy of the slides so you can take notes. Strategic HR webinars are £45 each.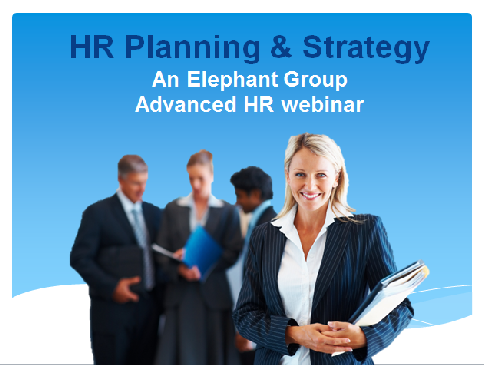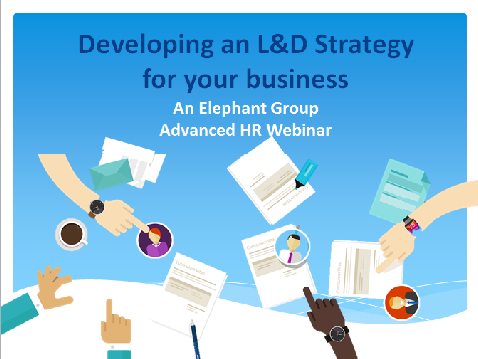 HR Strategy & Planning
As an HR Manager or Business Partner, you may be in charge of the HR Plan or Strategy for your portfolio or division.
You'll finish this webinar with:
An understanding of different HR strategic plan models that you can use for the plan you want to put in place

Ways you can develop the contents of the strategy

How to measure HR strategies
Developing a Learning Strategy
In many middle sized organisations, capability and learning sits within the HR Business Partners remit.
This module covers:
Different ways you can conduct a Training Needs Analysis (TNA)

L&D frameworks for developing a programme

Writing your L&D strategy and presenting to the executive team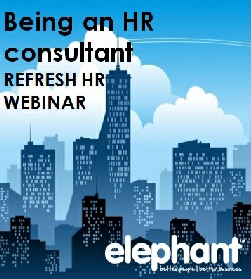 Being an HR Consultant is for people who are externally consulting and covers:
Purchase a webinar